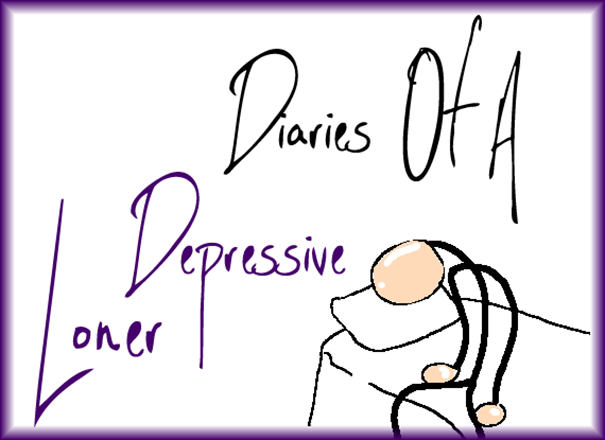 Based 27% on a true story.
I dragged myself out of bed and the cool, bitter winter air reminded me that I'm still alive.  Damn.  All kinds of odors from various and disquieting places slapped me into full consciousness, so mining through a depressingly precarious skyline of dreamcatchers, candles and empty glasses, I made my dismal escape.
Sitting at the breakfast table my eyes meet the sad sight of a soy milk carton. I am reminded of my pledge with Luna to become a vegan and all that I have forfeited…immediately a drab, abysmal gloom is cast over me.  There will be no cheese for me today.  Damn the world…this hideous.extroverted.world.  We silently eat our breakfast of fruit, nuts and celery in a silence only the grim reaper could feel peace in.  I'm a loner guys, a loner.  Existence seems hollow and uninteresting – but you already know that.  We muse over happier days in our childhood, like nostalgic bed-ridden decrepit's and sigh.   But alas!  Suddenly we lighten up upon tasting some vegetarian sausages, and, when Luna presents a tub of soy icecream from the back of the freezer, sliding it onto the table, we admit that life IS worth living after all.
Like the disgruntled loner she is, Luna began to write up her resume after breakfast to find a new librarian job closer to home. Poor piece of A4 paper. Often I catch her methodically checking it, scanning it for some answer as to why she's eternally ignored by the world.  I read it over her shoulder, feeling her rage bubbling up from the page, wondering why she spent 3 trillion dollars studying at university for a job she hasn't bloody well got yet. In her last interview her Excel skills were put the test, she tried to create a formula that came out something like "H5+!#*(@H7!?&!@*($@#=N64?" instead of the desired "3." She was marked average and herded into a pen with other librarian livestock deemed capable of answering phones, typing names, addresses and decimal system numbers into a board with keys.  I, on the other hand, have given up hope entirely of ever leaving my supermarket produce job. I've sent pleading emails to the human resource departments of companies I'd like to work in, kneeling myself to them. I will do anything for you. I will open the door. I will answer calls. I will taxonomize a pack of M&M's into the different colors and sugar values. I will blow compressed air onto your dirty keyboard with a straw. I will blow compressed air down your pants if that's what your heart desires. NOTHING.
We ended up going to the museum in the afternoon. Insufferable place.  It was swarming with children who ran around like psychopathic rats.  Somehow we convinced ourselves that going to an Aboriginal museum at 1 p.m. on a weekday would distract us from the fact that we're casual employees and on the brink of financial despair…but I usually find arrowheads and dishes made of faeces affirming in some kind of way…don't ask me how."Twelve dollars is the recommended entry fee," they said. "Is that alright?"
Phrased any other way I would have paid less, but there was no real way to stare at this woman eye to eye and say it wasnt. It was alright. Just a few weeks ago on an experimental night clubbing, we paid $13 for a vodka laced softdrink. The barmaid, covered in glitter – a girl who was obviously leaving a sparkling trail of daddy issues everywhere she goes – did not ask me if $13 was alright. I just told her: "Alright, here, here is thirteen dollars. Take my wallet. Take all…all of my money," and then blood started oozing out of my eye sockets.
Thirteen dollars is a reasonable price, for the financially crippled. Paying nothing would make me a dirty little stingemeister, paying one dollar would be even worse and more pathetic than not paying anything at all.  Those Sausage with Sauerkraut thinkers had it right though, if existence is as horrific as Schopenhauer exhorts, escaping into art could have saved this day from it's inevitable doom. It didn't. Luna got called in last minute to work.  God save me.  Or not…I don't believe in God, I'm a loner.  But you already know that.
Luna's library is a wonderful place for pretending to make progress on this site. Sucker.  It is regal and quaint. It demands magestic greatness. Its unrendered walls exposing grimy besmeared brick brings up the image of a heavily bearded man, delicately biting on the tip of a pencil, eyes raised to the heavens, ruminating over the wording of an email to overseas family, just like the elderly gentlemen beside me, flirting with a young Singaporean  female via facebook, calling him her "darling dearest friend"…while asking for financial favours, and agreeing to meet in her room when he gets there, to "talk".
Often I look toward Luna, and indulge my sexy librarian fantasies as I watch her at work – like a true loner.  It's one of the last joys I have in my loner life.  I watch how she helps patrons – usually old men who secretly perve down her cleavage like the necrophiliacs they are (she is quite pale), who, upon discovering her love affiliation with me – the grimy loner in the corner – look down on her with a kind of benevolent mercy, the kind one might direct toward a friends mentally disabled younger sibling who needs help eating with a fork. Rarely do her clients lose their patience with her slow sensitive nature, but when they do, I think to myself with utmost gloom: "Ohh, dog, Luna gonna crack open a fortee of whup-ass on yu now. Ohhh, yu in sum trouble nowww, WIGGA!" (Yes, I find hip hop vernacular unsavory for the most part, but there's times when, like French, it eloquently expresses the sentiments of the moment.)
Her colleagues often remark, charitably, how great it must be to be without a full time job and free during the day, and go wherever and whenever she wants. "Freedom"! A comment comparable to saying how awesome it must be to have no feet.  As a loner, i'd much rather have none anyway, what with the cost of shoes and everything. The librarian folk aren't particularly chatty, (but they still aren't true loners)…with the one chatty exception who is constant in his greeting of "EeyyHeyyHeyeyyHeyyyHeyyyyy!!!!" For god's sake, were I a spy like the one's my younger brother watches on tv, in the possesion of an emergency cyanide tablet wedged in my molars, I'd start desperately chomping at the sight of him.  It's hard being a loner.  Usually I sit in a small lounge in the library, after unpacking the three books I carry along with me each day and lay them down at carefully calculated angles so that their ostentacious complex titles will be visible to those at the table… while secretly, behind those books, reading self help books that tell me the importance of socializing and networking with people to achieve my dreams in life.
Just a moment ago it occurred to me that I wasn't networking with other people like the book suggests… so I looked around, in a cold panic. And I befriended the gentlemen checking his banking statements who offered to show me photos of his newly acquired bar. Were you to hand a 16 year old boy $30,000 to renovate his basement, this locale would be the outcome.
I've been told that to be considered a loner, you ought never look upward — it betrays joy with one's surroundings that our specie naturally finds distasteful. But I can see through the window a beautiful, vast horizon covered in fluffy grey clouds… mothers sitting with their babys in the hazy shade…I turn quickly away, not wanting anyone to see this man with the vicious hair and savage eyebrows staring at their children. A bit further down, I can see a gaunt elderly couple walking together holding hands that seem merry in spite of their sickliness…perhaps due to having been freshly exhumed earlier this morning.
Facing the blazing sun, I think how it's supposed to burn out in a few billion years more, and how maybe it could come a little sooner.  Yes, for a loner…that wouldn't be so bad to me.