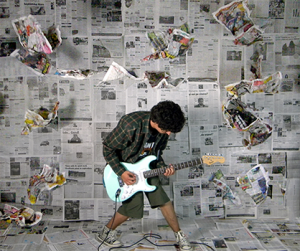 You sit down, pull your hoodie tightly over your head, and plug in your earphones hard.  It's time for some alone time and you desperately want to block out the world, at least for the time being.
The only problem is you're bored.  You're bored of listening to the same old songs by the same old bands on repeat.  Hell, you can practically recite every song backwards, in French, in your sleep.  So what can you do?  Listen to them for the 50 thousandth time again?
This series of articles is for all you lethargic music listeners out there wanting to listen to something new.  If you're an introvert especially wanting to listen to music for introverts, this article will be of use to you.
Many thanks to everyone on our Facebook and Twitter pages who suggested the following bands.  We've credited you with your additions.
Music For Introverts
Explosions In The Sky
Suggested by: Lee Delaney

Jim James
Suggested by: Brenda Golbus

Dead Can Dance
Suggested by: Portland Oregon Autism Resource Guide (and me!)

311
Suggested by: Meggan Simpson

Pink Floyd
Suggested by: Alfredo Flores

Type O Negative
Suggested by: @blacktears78

Geographer
Suggested by: @ImAHoodlum

Sisters of Mercy
Suggested by: @TimSS

This article is part of a series of articles.  Other Music For Introverts articles include:
All suggested by our readers! If you have any bands to add, feel free to include them in our comments section below.