He was an exile, an outcast, a man of no social identity.  Diogenes of Sinope was one of Greece's most controversial figures.
Plato once described Diogenes as "a Socrates gone mad."  This eccentric philosopher would become the stereotypical example of an urban hermit.
Diogenes lived a solitary life without possessions or social ties, and offered sharp public rebukes to the hypocrisy and greed of his day. But he went further, begging for food, sleeping in a ceramic barrel alone, eating in the marketplace, urinating on people who insulted him, defecating in theaters, and openly defying or disrespecting figures of authority and repute.
With his radical simplicity of lifestyle, he intentionally ridiculed human vanity about civilized behaviour. Through his (often humorous) philosophical stunts, he criticized society, authority, convention, and inconsistent ethics.
Origins of Diogenes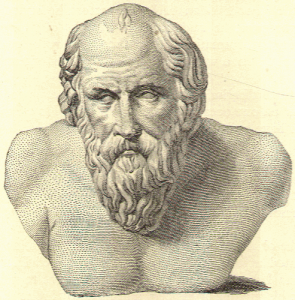 Diogenes was born in Sinope (now Sinop, Turkey), an Ionian colony on the Black Sea in 412 (or 404) BC. Nothing is known about his early life except that his father Hicesias was a banker. Diogenes appears to have continued in the footsteps of his father until they were both involved in a scandal involving the adulteration or defacement of the currency, resulting in Diogenes being banished from Sinop. After being exiled, he moved to Athens to debunk cultural conventions.
Interestingly, the word "cosmopolitan" originates from Diogenes. When asked where he came from, he replied, "I am a citizen of the world (cosmopolites)". This was a radical claim in a world where a man's identity was intimately tied to his citizenship in a particular city state.
Diogenes shared Socrates belief that he could function as a doctor to man's soul and improve their morals, while at the same time holding contempt for their mental dullness. He found animals more virtuous than humans who live artificially and hypocritically, stating that man would do well to study the dog who lives in the present without anxiety or use of pretentious abstract philosophy. Diogenes stated that "other dogs bite their enemies, I bite my friends to save them."
From his love of the canine species came his philosophy of "Cynicism" (or "kuvikoi") meaning dog in Greek.  Contemporaries considered Diogenes mad and his life that of a dog, with Cercidas of Megalopolis writing: "He who aforetime was a citizen of Sinope, that famous one who carried a staff, doubled his cloak, and lived in the open air. … In truth he was rightly named Diogenes, a true-born son of Zeus, a hound of heaven."
Diogenes Teachings
The ideas of Diogenes, like those of most other Cynics, could be arrived at indirectly through his actions. No writings of Diogenes survived even though he is reported to have authored over ten books, a volume of letters and seven tragedies. Cynic ideas are inseparable from Cynic practices, therefore the teachings of Diogenes were contained in anecdotes concerning his life and sayings attributed to him.
His most famous anecdote depicted him strolling through the city holding a lamp in full daylight and shining it on other people's faces. When asked what he was doing, he would answer, "I am looking for an honest man" (a man of truth). This story formed the basis of the famous image of the hermit in modern Tarot cards.  Diogenes looked for a human being but reputedly found nothing but "rascals and scoundrels".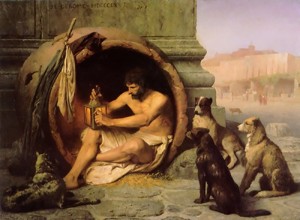 Another anecdote tells of Diogenes being captured by pirates while on a voyage to Aegina and sold as a slave.  Diogenes was a man that practiced self discipline – he never resisted anything in life, considering himself a "Master" who was in control of his mental and emotional reactions, and his response to the desires that life presented to him.  As such, his slavery rendered it impossible to make him feel enslaved. There are masters that carry themselves as slaves of their desires and fear, and there are slaves that carry themselves as masters of themselves.
Being asked his trade, he replied that he knew no trade but that of governing man, a pun, as in ancient Greek this sounds both like "Governing men" and "Teaching values to people". While standing on a pedestal in the slave market, he pointed to Xeniades, a man dressed in a fine purple robe and said "Sell me to this man; he needs a master." Xeniades liked his eccentricity, and when he purchased him, Diogenes said, "Come, see that you obey orders. You must obey me, although I am a slave; for, if a physician or a steersman were in slavery, he would be obeyed."
Diogenes and Alexander the Great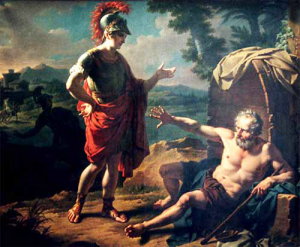 According to legend, Alexander the Great after hearing of this outcasted and eccentric philosopher, went to visit Diogenes to grant him a wish. Upon finding him, Alexander found Diogenes lying in the sun.
Diogenes raised himself up a little when he saw so many people coming towards him, and fixed his eyes upon Alexander.  And when that monarch addressed him with greetings, and asked if he wanted anything, "Yes," said Diogenes, "stand a little out of my sun."
There are two different sources of how this fascinating conversation continued.  One account says Alexander saw the philosopher looking attentively at a pile of human bones. Diogenes explained, "I am searching for the bones of your father but cannot distinguish them from those of a slave" (of his world conquering ambitions).
Another account goes on to say that Diogenes asked Alexander, "What will you do after you conquer the entire world?", to which Alexander responded, "relax and enjoy".  Diogenes then turned to his dog and and said: "Look at this fool, he has to conquer the entire world to be able to do what we are already doing right now".
It is said that Alexander was so struck by this, and admired so much the grandeur and fearless demeanor of this solitary beggar who had nothing but scorn for him, that he said to his followers, who were laughing and jesting about the philosopher as they went away, "But truly, if I were not Alexander, I would be Diogenes."
Eccentric Anecdotes of Diogenes
The following are some of the more amusing insightful anecdotes of this great solitary thinker.
Diogenes once begged alms of a statue, and when asked why he did so, replied, "To get practice in being refused." He was trying to understand a beggars mind.
A person once took Diogenes into a magnificent house and warned him not to cough, whereupon having cleared his throat he discharged the phlegm into the man's face, being unable, he said, to find a meaner receptacle.
One day Diogenes shouted out for men, and when people collected around him, he lunged out at them with his stick, saying, "It was men I called for, not scoundrels."
Being asked why people give to beggars but not to philosophers, Diogenes said, "Because they think they may one day be lame or blind, but never expect that they will turn to philosophy."
To the question why gold is pale, Diogenes' reply was, "Because it has so many thieves plotting against it."
To the question what wine he found pleasant to drink, Diogenes replied, "That for which other people pay."
As for those who were excited over their dreams, Diogenes would say that they cared nothing for what they did in their waking hours, but kept their curiosity for the visions called up in their sleep. At Olympia, when the herald proclaimed Dioxippus to be victor over the men, Diogenes protested, "Nay, he is victorious over slaves, I over men."
Certain parents were sacrificing to the gods, that a son might be born to them. "But," he said, "do you not sacrifice to ensure what manner of man he shall turn out to be?"
When a group of boys clustered round him saying, "Take care he doesn't bite us", he answered, "Never fear, boys, a dog does not eat beetroot."
When Phryne set up a golden statue of Aphrodite in Delphi, Diogenes is said to have written upon it: "From the licentiousness of Greece."
When a person reproached him for going into dirty places, his reply was that the sun too visits cesspools without being defiled.
Being asked what was the most beautiful thing in the world, he replied, "Freedom of speech."
Diogenes had nothing but disdain for Plato and his abstract philosophy. Diogenes viewed Antisthenes, his mentor, as the true heir to Socrates, and shared his love of virtue and indifference to wealth, together with a disdain for general opinion. As a contemporary to Plato, Diogenes enjoyed embarrassing him and interrupting his lectures. When Plato gave Socrates definition of man as "featherless bipeds" and was much praised for the definition, Diogenes plucked a chicken and brought it into Plato's Academy, saying, "Behold! I've brought you a man."
Diogenes once was begging from a miserly man who was slow to respond, so he said, "My friend, it's for food that I'm asking, not for funeral expenses."
Being asked what was the right time to marry, Diogenes replied, "For a young man not yet: for an old man never at all."
A report that Philip II of Macedon was visiting the town of Corinth threw all the citizens into a bustle, so that some were cleaning their weapons, others were wheeling stones, patching walls, and strengthening battlements. Diogenes having nothing to do, gathered up his philosopher's cloak and began rolling his ceramic tub energetically up and down the Craneum gymnasium.  After being asked what he was doing, Diogenes explained: "I do not want to be thought the only idler in such a busy multitude; I am rolling my tub to be like the rest."
Diogenes Death
Diogenes taught by living example.  Through 'shocking' people into thinking and questioning, he tried to demonstrate that wisdom and happiness belong to the man who is independent of society and that civilization is spiritually regressive.
Diogenes died in Corinth in 323 BC.  There are conflicting accounts of Diogenes death.  He is alleged to have held his breath; to have become ill from eating raw octopus; or to have suffered an infected dog bite.
However, when asked how he wished to be buried, he left instructions to be thrown outside the city wall so wild animals could feast on his body. They asked if he minded this, he said, "Not at all, as long as you provide me with a stick to chase the creatures away!" Shocked at his response, they asked how he could use the stick since he would lack awareness, he replied "If I lack awareness, then why should I care what happens to me when I am dead?" Even till the end, Diogenes made fun of people's excessive concern with the "proper" treatment of the dead.