Description
Note: this is a digital book meaning that when you order, we'll send you files to download. However, if you want a physical copy, you can print the book at home or at a local printer. (We provide you with a 100% printable PDF). Please see the FAQ below for more info.
Details:
Soul mate and twin flame love is an ancient concept. We see it in the dance between Shiva and Shakti, the union of the Horned God and Mother Goddess in old earth religions, the passion of Osiris and Isis, and the mystical symbiosis of Jesus and Mary Magdalene.
But while ancient and timeless, at no point in the history of civilization has there ever been as intense and passionate an interest in spiritual relationships as there is right now.
In this breakthrough book, spiritual counselors and twin flames Aletheia Luna and Mateo Sol, dive deeper than ever before into the fiery world of twin flame and soul mate love.
With notoriously down-to-earth and crystal clear insight, Luna and Sol explore how to find, create, and sustain real awakened relationships in an increasingly fragmented world.
Twin Flames and Soul Mates is a psychospiritual manual that is composed of various articles that we have published on this website in the past. We have also added extra content to help illuminate your path and guide you through this sacred path of love.

Chapters in this book include: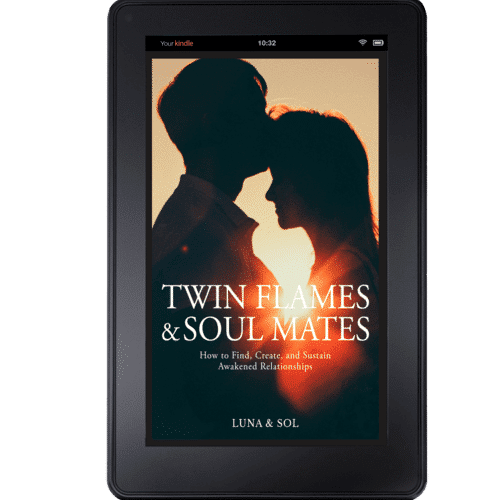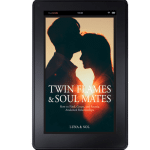 Love and the Spiritual Awakening Process
What is a Soul Mate?
What is a Twin Flame?
The Story of Luna and Sol
How to Find Your Soul Mate and Twin Flame
Harmful Myths About Soul Mate and Twin Flame Relationships
The Five Levels of Relationships
Are You in a Healthy Relationship?
What to Do When Your Relationship Falls Apart
The Shadow Side of Seeking Love
How to Use Your Relationship as a Spiritual Catalyst
This book covers an extensive number of topics including the complex areas of false twin flames and soul mates, twin flame separation, the runner/chaser dynamic, and how to create a harmonious spiritual Union.
You'll also discover how to fulfill the ultimate purpose of twin flame and soul mate relationships: to awaken yourself and the world around you to deep levels of love, joy, and interconnectedness.
Book Details
Pages: 289 (epub) 287 (pdf)
Language: English
Format:
PDF (can be printed out or read on your phone, tablet, or computer)
ePub (can be read on Kobo, Nook eReaders, etc. or on any eReader app)
mobi (can be read on Kindle eReader or eReader apps)
+ all future updated versions for free
Print Version:
If you would like to purchase the paperback version of this book, please click here.
Please note that you will not receive the journals and meditations included in this bundle on Amazon as they're only available on our website.
FAQ
What happens after I have paid?
Once you have paid via credit card or Paypal, you'll be sent all the juicy details for accessing the eBook to your email. If you can't find the email, please check your Junk Mail folder. If you still can't find the email, please contact the LonerWolf team here.
Is this book digital or print?
This is a digital eBook meaning that you will be able to read it on your phone, iPad, Tablet, eReader, or desktop computer. Producing a print version of this book would increase the cost to cover printing and shipping costs. So, we want to save you $$$! If having a hard copy would make life easier, we recommend going to your local printers and asking for them to print and bind this book. However, if you still want to purchase a paperback version, click here.
What currency is the price?
All prices are in USD. But you can use the currency converter next to the USD price to convert to the closest currency to yours.
I have downloaded the eBook but it's not opening.
There are a few things you can do: 1) ensure that you have the latest version of Adobe Reader, available at http://www.adobe.com/products/reader/ 2) Download the files again using the link that was emailed to you. 3) If you still have issues, please contact us.
How do I read the eBook on my Kindle/eReader?
You can upload the mobi files directly to your kindle (via your USB cable) or use an eBook management library such as Calibre eBook Management. With other eReaders (such as Kobo and Nook eReaders), you can generally drag and drop the file directly into the eReader after plugging it into your laptop/computer.
What if I don't have an eReader?
No dramas! The book comes with three formats (ePub, mobi, PDF) so you can easily open the PDF version and read it on your laptop, tablet or phone anywhere.
Is it more cost-effective to print the PDF document or buy the paperback book?
If you have a printer at home or at work, it's generally much cheaper to print the PDF document (that comes in this bundle) than buying the paperback book from Amazon. You can then get the document bound at your local stationery store or use a hole punch and put the book into a ringed-binder.
On the other hand, if you don't have access to a printer, it would be more cost-effective to purchase the paperback book from Amazon.
I can't find the email with the details about downloading my book.
Please check your spam, junk or 'promotions' folder. If you still can't find the email, please contact us.
Is there an audio version of the book?
Unfortunately, no. But here's a little life hack we've learned: on your eReader app (if you don't have one, go to the Google Play store on your phone or tablet and search for "eReader app"), there's usually a text to speech option. This allows you to listen to the book and convert it into an audiobook automatically!
Do you offer refunds?
Yes! We trust in your honesty and integrity, understanding how much hard work we put into what we offer. Therefore, we offer a generous 30-day ZERO RISK 100% money-back guarantee if you don't resonate with the content. We stand by our products and are passionate about what we offer. If you do not get the results you expected, send us an email and we will immediately refund your money. (There are no hard feelings!) There's nothing to lose. And everything to gain. So take the LEAP!
***
Don't forget to let us know what you think about this book on Facebook, Instagram, and Twitter with the hashtag #twinsoulbook!
+ 10% GST for Australians