What do you associate with the word "Shaman"?
Usually, when people first hear about my Shamanic practice they envision mysterious and otherworldly activities.
Who can blame them?  Literature and visual media portray Shamans as crazy looking tribal men and women who live deep in forests dressed with animal bones and involved in obscure rituals.
I first came across an actual Shaman at the age of 6.  Little did I know I would be mentored by Shamans for almost a decade later.  My grandparents thought that contacting a local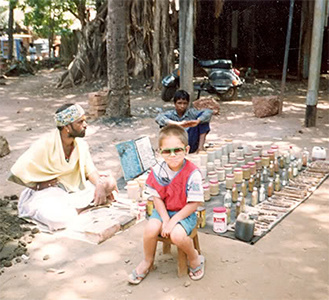 Shaman would be the solution to our family's ills, as they believed my mother and uncle had been "touched" by evil spirits (they both suffered from intense mental illnesses), and I had begun having dreams of the "Apus" (the spirits of the Mountains, the other three nature spirits being; "Pachamama", mother earth; "Mama Killa", the moon; "Inti", the sun).
To be a successful Shaman you must learn how to harmonize the energies within you.  If you can master your own "heavy" energies, you can share your wisdom and you can help others do the same with their own (as T.S Eliot referred to it; the Wounded Surgeon's ability to heal others).  In doing so you learn to create bridges between the thin veil that separates the world of everyday subjective "dreams" that we call conscious reality, from a deeper and denser understanding of "reality".
Bridging the Unconscious Mind Consciously
The concept of an "unconscious" mind has been around for quite some time.  Although most of us associate the unconscious mind with Freudian ideas of repression and sexual desires, modern science has an entirely different definition.
It is now thought that parts of our mental processes are unconscious and inaccessible to our conscious minds due to the architecture of the brain.  The unconscious mind as we know it today is the result of thousands of years of evolution and is designed for the survival of our species.
While our conscious minds are great for analytic thought, language processing and directed focus, our unconscious minds play an invaluable role in protecting us against wild animal bites or cars that swerve into our paths.  Consciously deciding to hit the brakes, or move out of the way of danger instead of using your unconscious instincts would be impossible.
There's an infinity of things happening around us that we aren't aware of; from imperceptible sounds and electrical frequencies, to atom vibrations and the photosynthesis of plants.  We aren't aware of these things because our conscious minds are limited, and they can only focus on immediate tasks at hand.
As Aldous Huxley explained over 60 years ago after experimenting with the psychoactive substance known as "mescaline"; our unconscious minds function as "reduction valves" that protect us from being overwhelmed and confused by masses of useless and irrelevant knowledge.  What comes out at the other end of this vast depth of awareness is a trickle of the kind of consciousness which will help us stay alive.
The word "Shaman" means an "Inspired Priest"; someone who has learned to reconnect to their natural home, their 'divinity', by tapping into their unconscious mind and making themselves "whole" again through dancing, meditation, hypnosis, psychoactive substances, breathing methods, and so forth.
In our world these days, there are two main approaches to the study of the mind: science and Shamanism.  Science is obsessed with studying the hardware of the brain, the objective pathways of neurons and dense forests of synapses, without comprehending the nature of consciousness.  Shamanism, on the other hand, is an art of exploring the subjective truth of the mind through visions, dreams, myths and interactions with nature.
We are accustomed to thinking of human consciousness as originating from the brain, even though science doesn't know where exactly it arises, or why.  What if instead of creating consciousness, our brains are rather like television sets; receptors of a frequency, a living energy that enters us and fills us with awareness?
And if this were the case, how would we return to where the frequency originates?
Rituals as Doors of Perception
When I first introduce people to rituals they can't help but find them a bit silly.  For example, I personally found it difficult to grasp why exactly I was learning about "despachos" (offerings to mother Earth or the mountains).
The Incan tradition is full of beautiful rituals to demonstrate ones gratitude towards Pachamama, like thanking her every morning when we wake up.  There is also "Ayni", which is an energetic reciprocity that you fill all your activities with through higher awareness.  There are "mesas" which are altars or shrines we work on where we place our "Khuyas" (stones of power that we infuse with our most refined energy, for example: empathy) among other objects.
Every culture has a history of rituals and traditions.  From the mindful tea drinking rituals of the Zen monks, to the rituals performed to honor the Sun god and Moon goddess of the Wiccans, there are countless examples of rituals taking place in all cultures and religions in the world.
While rituals don't have any power by themselves, it is rather the psychological process of going through a ritual that changes our perception of the world.  It is the ritual that lulls the conscious mind into a repetitive flow, a flow that allows the unconscious mind to manifest itself with varying intensities.
Take the Zen Buddhist occurrence known as "Makyo" ("the devil in phenomena"), for instance.  This idea refers to the process of ritualistically meditating to seek enlightenment, and coming across terrifying, devilish visions from the unconscious mind.
Witches throughout the ages, have also been know to practice the tradition of "night traveling" (commonly depicted in our modern image of witches flying on broomsticks).  These women, and men, would connect to their unconscious minds through the ritualistic ingestion of herbal plant potions (usually with mild psychoactive properties) , resulting in "spirit flights" and subsequent connections with other realms of existence.
Getting High With a Purpose
Most people who hear of "Shamanic Healing" will immediately think about drugs and getting high.  But this is not always the case as seen in the case of practicing rituals.
When I first came to live in Australia I found an immense cultural contrast.  From cultivating a natural connection to the land every day as in the tradition of the Shamans, to the constant bombardment of media indoctrination and materialistic pursuits, I found it hard to adjust to such a new, alien way of living.
Quite quickly I discovered that techniques which would easily work in other cultures wouldn't necessarily work as well in Western cultures such as Australia.  The strong sense of self, of false ambitions and desires is so intense within the Western culture, that first there must be a de-programming of all these cultivated ideals. That is why I see the necessity to apply inner work to our daily lives, to explore and understand ourselves better.
In some cases, psychoactive substances are an advantage as they do offer a dissociation from our false selves.  But the problem is our prejudice towards mind-altering substances, and our belief that they should all be grouped under the same ominous label: "drugs".
Thinking that all drugs are the same is like thinking all "food" is the same; whether McDonalds or an organic gourmet meal.  While some substances are highly addictive and toxic, others are physically harmless and open parts of your mind that you have never explored, understood or even known existed before, as has been verified in the last few years through scientific research.
Not only that, but the purpose that you give your substances also affects the experience.  In a culture of materialism, psychoactive substances are seen as vehicles towards pleasure.  While some people take these substances to escape from problems, others take them to see pretty shapes, colors and sounds, and still others use them as ways to achieve Self-Discovery, and as powerful, sacred tools of Self-Exploration and change.
One of the most useful components of psychoactive substances is that they bring to light your shadow self, revealing many of your insecurities and internal conflicts for examination.  They can also provide a direct link of communication to your unconscious mind, reveal false beliefs, and helping you to question long held habits and deep-seated assumptions.
Those who get high for "fun" will eventually get bored or experience depression from abusing these tools as stimuli.  We see this everywhere.  But those who use these sacred substances for the purposes of self-growth, and to bridge the conscious and unconscious realms together, learning to integrate their new-found discoveries into their daily lives, will profit immensely from their psychedelic journeys into Self-Understanding.
Shamanism is not about drugging people out of their minds, but rather is about taking them on short, intense journeys that teach them to look at themselves and the world differently, to open their minds to the possibilities of other realities and planes of existence.  There is a bigger alienation from a person's authentic self in the West, than there is in any other culture of the world.  We need to be reminded that there are other ways of looking at the world as well, and that there are others ways of living consciously.
Shamanic Healing is a way to remind us of the presence and power of our unconscious minds, and to learn to listen and trust in them more.  To bring back with us a higher awareness of our every action, thought, feeling, emotion, intention, intuition, dream and vision is the main objective of Shamanism.  To bridge the gap between the mundane and the magical, and to experience the miraculous in the mundane is the result.