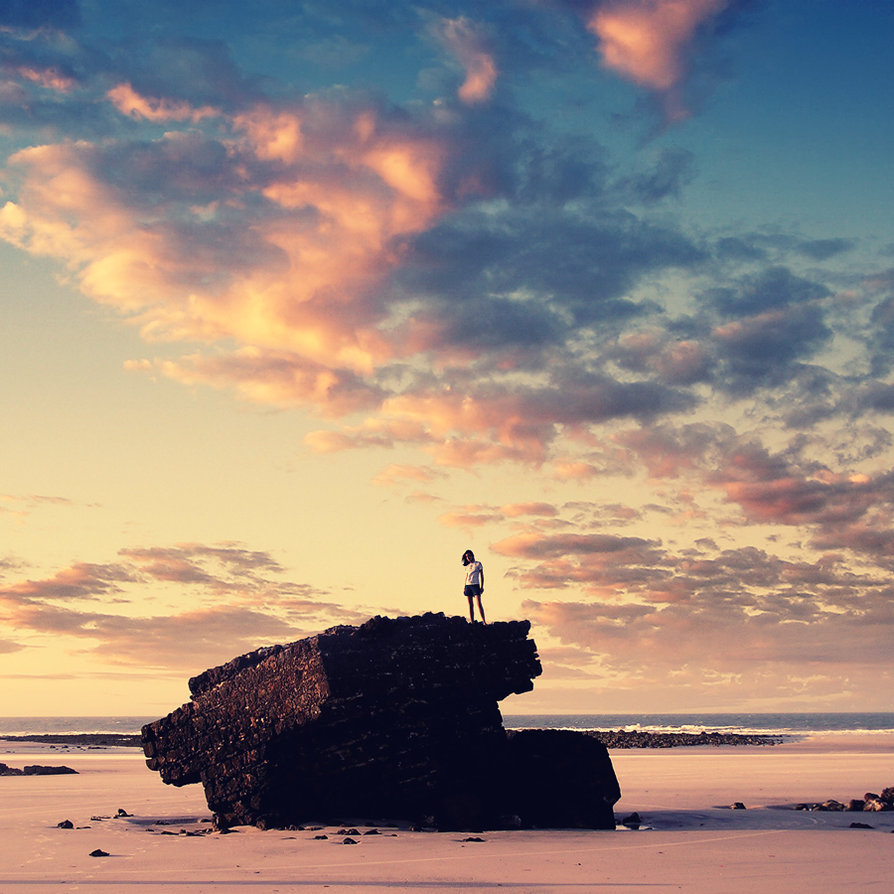 In·tro·vert /ˈintrəˌvərt/ –  The psychological preference of directing ones focus internally.  Inspired by C. G. Jung.  Popularised by the Myer Briggs Type Indicator (MBTI).
Ex·tro·vert/ˈekstrəˌvərt/ – The psychological preference of directing ones focus externally on people and things. Inspired by C. G. Jung. Popularised by the Myer Briggs Type Indicator (MBTI).
If I were to choose between populating my planet with introverts or extroverts, it would unquestionably be my fellow introverted race.
Yes, I am in a sense racist and no, I don't want world domination, it's simply that I believe introverts have a lot more going for them.  Most essential of all: introverts are skilled with the gift of reflection and introspection.  Extroverts on the other hand are too absorbed in the outer world, and find it uncomfortable to be solely by themselves.
…What I have just written is very typical of many introverted vindications on the internet.  Us introverts become so incensed and irritated at the extroverts that talk too loud, speak too much, impose themselves too frequently into our private spaces, that the game of comparisons begin.
When we compare ourselves with extroverts and vice versa, what is happening is that one side is trying to prove themselves superior to another.  It sounds extreme, but this is the precise same seed that germinates to produce genocides and racial cleansings.  I know that for me, comparing myself to others comes so frequently, and is so ingrained into my unconscious that it seems instinctive to discriminate against others who aren't like me.  You have 50 ∞  friends?  Don't like reading??  Don't like being quiet???  Depart from me – freakish peasant!!  
We can't agree to play the same game that the majority of society plays, we can't sink to the same level of criticizing and ostracizing those who criticize and ostracize us.  How will anyone live in peace and acceptance?  We need to firstly turn inwards to explore and understand ourselves, and make the determined decision to grow away from such destructive reactive behaviours.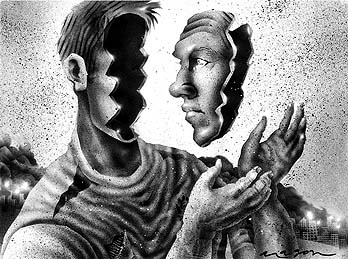 All spiritual traditions and religions are, in one way or another, about encouraging internal self growth.  It's true that introversion encourages introspection and self inquiry, as well as the fact that many spiritual masters such as Jesus, Mahatma Ghandi and the Buddha were believed to be introverted.  However, introversion is one extreme of the same scale that extroversion is.  Try thinking of a long red line, and at each end of that red line is one extreme of introversion or extroversion.
In reality, both of these extremes are reactions, whether through biology or more commonly through environmental conditioning – both are involuntary.  For instance, I could have been raised with two parents who liked hosting get-togethers and parties every few weeks.  I then grow up to become very hospitable, friendly and people-focused, because of my childhood environment.  Or, in kindergarten I could have been teased for my persistent lisp, and then grow to become very shy, quiet, and uncommunicative.
The point is, we do not choose introversion or extroversion.
If you are lucky enough, you may just be an ambivert, or one that focused their energy both on the internal and external world.  This is in the neutral ground in our psychological spectrum – the type that exists in the very middle.  Ambiversion is an ideal state of being, it is not a reaction like extroversion or introversion, as all reactions work in extremes. Ambiversion is, instead, a neutral state of being.
The best thing about ambiversion, as well as introversion, is the possibility for mental, emotional and spiritual self growth.  Because both can focus inwardly, exploring the many different dimensions of themselves, the chances that they will grow more in understanding of themselves and others, and transcend all the negative, poisonous habits, behaviours and false beliefs of the mind, is heightened.  To do this we must be in an introspective, meditative, solitary state.
Like all the sages and wise men who cut themselves off from the noisy, flamboyant, emptily-stimulating masses to meditate and wander, so must we adopt this state of aloneness to renew ourselves.  This state is accompanied by Involution, the internal evolution of the heart, mind and soul.
In essence, Involution involves voluntary solitude, mindfulness, and childlike inquisitiveness.  In our solitude, we can exist in a perpetual state of newness.  Our minds and lives don't stay old, stagnant, static and barren, but they become new and vibrant.  We are eternally new when we escape from the games and lies and fantasies of the world through awareness, or mindfulness.  Our existence is constantly renewed when we question and challenge what we have become mindful of.
We therefore come to live in the present reality.       
We have the freedom to choose how we want to be throughout our lives.  It's not simply the case of allowing our reactive psychological states to determine where we focus our energy and how we interact with ourselves and the world.  To choose Involution is to choose the art of solitary introspective mindfulness.  Mindfulness is the key.
I had this epiphany the other night in my bathroom, standing shivering like a summers mirage.  Without mindfulness, or in other words awareness, how would we be able to see our rotten bits in the first place, to then change and become better?  How would we be able to become aware of our reactions, our prejudices, our pretenses, and our empty beliefs, to then change them without mindfulness?  Without being mindful of our thoughts and actions how would we hope to change our anger issues, ego issues, lust, jealousy, greed, untruthfulness, desires for approval to gain self worth?
There are a myriad of problems that can be solved with mindfulness.  One of the biggest things I have realised in my internal evolution is my preoccupation with the future, for instance.  I get so trapped in my dreams and illusions of the future, that the present is often neglected.  By choosing to focus on evolving internally, in developing solitary introspective mindfulness, I have realised something that has made a deep impact in my life – by choosing to be mindful I can now feel happier because I appreciate the present more, and realise that the future is not alive now, it doesn't exist.  Whether it's being mindful of your reaction towards criticism, or your hidden prejudice towards 'different' people, mindfulness is most effective when it is accompanied by inquisitiveness and will power.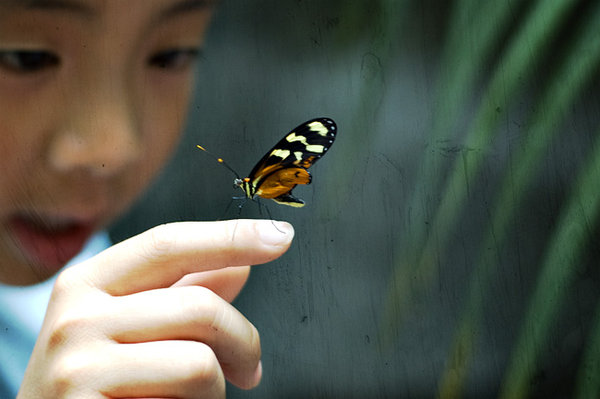 I find that the golden question is eternally asking: "why?"  Try asking yourself:  why does this happen?  Why does that happen?  Why do I do this, and not do this, and say this and think this? 
Children are revered by many spiritual traditions and religions in the world.  This may very well be because they are relentlessly curious and inquisitive.  A child's favourite world is the resounding "WHY?"  We must revert to our childhood innocence and continue to ask why.  When we find the answer, and if it requires us to act, we must have the willpower to change as well – to change our hurtful reactive actions, and to change our polluted ideas and beliefs.
So when we discover that we are too concerned with what people think of us, we must have the conviction to change.  When we see that we are too self-absorbed, we must have the strength of will to change.  When we see that we react to jokes made at our expense, we must have the willpower to change ourselves.
Being lukewarm and lazy won't make your life more joyful and rich or others either.
I believe that many things that are good, wise and healthy are usually very hard to do, and distasteful at first.  We may hate our celery and broccoli, but they are flooding with the nutrition that benefits us.  We may not want to spend time doing something that our siblings/parents/partners want to do, but by doing what they want we are bonding with them more and creating stronger emotional connections that benefits both us and them.
Imagine if every one focused on Involution.  Imagine if they kept asking the simple question 'why?' of themselves and their actions and had the true strength of will to change whatever they found wrong with themselves.  If we adopted these three simple things: mindfulness, inquisitiveness and willpower, imagine the revolution in humanity there would be.
All we need to do is to embrace our aloneness, knowing that in order to grow, we must be alone, we must feel solitude psychologically in order to do away with the outer distractions that hinder our inner growth and therefore our harmonious relationship with the world.  We must accept that to grow is not to remain stagnant in our involuntary extroverted, introverted types, but to choose to evolve internally, to choose Involution and to embrace the internal solitude that brings internal bliss.
What have your experiences been?  Feel free to let me know below.