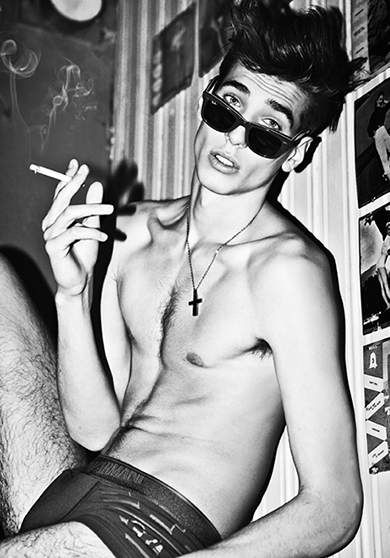 Suddenly it dawned on me.  This novel I'd been laboring over since 2008, had the precise same unoriginal marker as countless other novels on the market – the "bad boy", one of the important central characters in my story.  Indeed many stories, mostly written by introverted women, have this great defining and simultaneously homogeneous feature.  Why?  Because people lap it up, and as I have observed in my work, my life, myself and the cyber world, the major suckers are the introverted, (ironically) cerebral breed of female.  Just observe the books the majority of females take out at libraries.  I tell you, not a day goes by at the library I work at, when I cease to receive from meek, introverted women copies of Twilight, Tess of the d'Urbervilles, 50 Shades of Grey, and other novels featuring machismo, mysterious looking studs, bearing their heavily ripped bodies and rugged faces gallantly on the covers.  Rhett Butler (from Gone With the Wind), Wade Walker (from the film Crybaby), Heathcliff (from Wuthering Heights), John Thornton (from North and South), Adrian (from the Vampire Academy series), Patrick Verona (from 10 Things I Hate About You), Lestat (from The Vampire Lestat), Jim Stark (from the film Rebel Without a Cause), Eric Northman (from the Southern Vampire Mysteries) … If I were to list every alluring bad boy character in the history of film and literature, I would fill 5 volumes.  But the question still remains: why are we, as introverted females, so seduced by bad boy characters?  Does this attraction actually benefit us in any way?
Theory #1  - They Possess What We Lack … And We Secretly Want To Be Like Them.
Quiet, cautious and thoughtful females seek for stimulation and excitement just as much as outgoing risk-takers.  Though obviously … this takes the form of the safe fantasy world inside of books, instead of real life circumstances.  It's no wonder then, that introverted females frequently indulge in the pleasures of dramatic literary daydreams … featuring many and varied forms of the "bad boy", in all his smoldering beauty.  The bad boy represents everything that the introverted female isn't.  They possess:
Extroverted confidence.
Social calm.
Exciting, reckless & risk-taking behaviors.
Popularity (or at least lots of limelight-living.)
Paired with their hyper-masculinity and trademark mystique, bad boys to the introverted female are both adored and envied.  While their masculinity and mystery appeals to our feminine sides, their personality qualities appeal to our mental sides.  We admire them and are attracted to them because quite simply, we want to be like them.
Theory #2 – They Dress Us Up in Nurse Costumes … And Boost Our Ego's.
I bet Beauty felt pretty damn good about herself when she kissed the Beast and turned him back into a Prince.  I would.  Quite simply, bad boys appeal to our gentle feminine sensibilities because they make us feel needed and therefore good about ourselves.  Bad boys allow us to become the nurses who have the emotionally-thrilling job of cutting through their gruff exteriors, to reveal their wounded internal cores.  We can counsel them, work to heal them, and finally fix them … and who is the morally righteous person to thank?  Well … US of course!  Not only do we gain a great deal of self worth from "fixing" those we piously think are "bad and broken", we also reinforce our senses of ego by virtually separating ourselves as 'better' people than them.  Essentially, we're doing what most preachers do: elevating ourselves above people, while fixing people before we fix ourselves.  Who are we to think we're better than anyone else, even if it's under the guise of "helping" people?  Although many introverted females don't directly engage in these activities, it's clear that the idea deeply appeals to them by the large amounts of 'bad boy' literature they consume.
Theory #3 – They Provide The Perfect Stimulant.
Bad boys.  They're way more interactive than Sudoku, and infinitely more stimulating than a cryptic cross word puzzle.  In fact, they provide us with the perfect projects to work on and to take possession over.  We can be professor Frankenstein's: sculptors of the emotions and architects of the mind.  We can nobly install in them what we find is 'good and fitting', while 'selflessly' sacrificing our emotional well being to take part in the emotional games of hide-and-seek, I'm-good-now-I'm-bad.  Because we read and watch this continuously in film and literature, introverted females in particular are prone to harboring the earnest desires to meet a bad boy one day.  These men will serve to fulfill their dreams of excitement, adventure and challenge.  But, as I've experienced, these dreams only create a sloppy, self-indulgent romantic.  What we truly desire in our romantic fantasies and ideals is to have a project, not a prize.  We want some stimulation, drama and something to work for, rather than to embrace the more sedate free-flowing feelings of love for a person we fully embrace – both good and bad.
I stopped my fascination with bad boys when I realized how self-indulgent and pointless it was.  It's a waste of time to dope yourself up on the bad boy drug.  Not only can it negatively affect the way you approach any of your future relationships (and leave you with deflated disillusionment), but it's a poor way of gaining self-worth, and an unhealthy way of gaining stimulating pleasure.  I see so many introverted females wasting their lives reading B-grade escapist literature to fulfill their unspoken fantasies.  Next time you're seeking stimulation, try the non-fiction section.  It will never leave you high and dry – and you might learn something life-changing.