Sponsored Links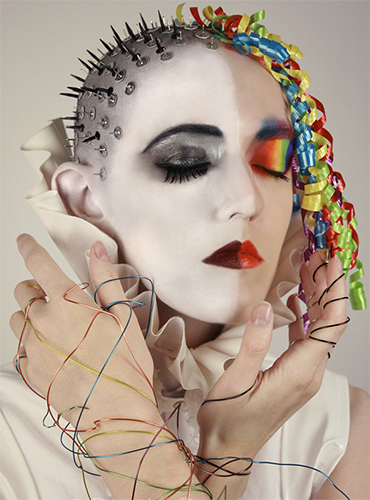 Photo by: Porcelainpoet
What do Michelle Pfeifer, Julia Roberts, David Letterman, and Clint Eastwood have in common?  They're all extroverted introverts.  And it's an increasing phenomenon.  Thanks to the Western world's favoritism of extroverts, introverts find they must change.  We must become actors masquerading under finely tuned masks.  In order to excel in many of our careers, life ambitions and connections we must become actors in the greatest sitcom on earth.  Social Networking.
Many of us don't like social mingling.  It's a labor to us, a chore, and frequently a curse.  We look at it with dread and we feel drained already by the looming prospect.  But in order to do what we want and get places in life, we must form connections with others.  This is where the extroverted introvert contradiction comes into play.
Many introverts realize that they must become the experts in personal appearances and self promotion in social settings.  Many of us realize that simply being ourselves won't cut it.  We can't remain quiet, reserved or autonomous.  We must function by igniting connections with people.  And in order to do that we need to put on a show, adopting a facade.  And thus, the extroverted introvert is born, one who buries their true self to display another "self".  Like every actor, the role of the extroverted introvert only appears when there is an audience.  But remove the audience and the mask is removed.  There is no actor anymore.  Instead, there's just a drained and frustratingly repressed person.
The extroverted introvert facade is a reactive defense mechanism.  I've discovered this myself working in my job at a public library.  The job is frequently socially overwhelming.  The demand to be agreeable, amiable, and chatty with the library users intensifies during the day, dragging me down with anxiety and pressure.  I don't want to displease my boss, nor appear brusque and dull to my colleagues and clients.  So the role of the extroverted introvert is adopted as a way to cope with my insecurities and social pressures.  But the real value in adopting this role to 'get by' is highly questionable.  Not only does the extroverted introvert role create mental and emotional repression, but it can't be maintained.
There are moment and days when every mask crumbles and falls.  My extroverted introvert facade frequently does.  The ramifications aren't pleasant either.  People become shocked, offended and confused.  My boss, perplexed, went to the extent of pulling me aside, asking whether I still enjoyed the job.  What a nasty surprise!  Adopting the extroverted introvert role as a way to deal with  pressures and insecurities is a poor choice with detrimental results.  So then, how can we understand ourselves better to know what to do in these situations?
Think About …
The problem:
 Entering a social situation.  This leads to …
Personal insecurities, e.g. "I want to be liked/accepted/charming/funny", "Am I talking enough?", "Why are people looking at me strange?"  This leads to …
The creation of pressure to live up to a certain standard, e.g. extroverted behavior.  This leads to …
Adopting an extroverted mask.

Sponsored Links
When the mask crumbles
The dynamics of it look like this …
The person or group of people have set expectations and beliefs about you, e.g. "John is talkative and friendly".
The person or group of people compare the unmasked version of you to the masked version of you.
Confusion, as well as distrust, fear, upset, and/or offense ensues as a result of the previous misleading expectations, beliefs and perceptions about you.
What to do about the mask:
Focus on the roots of this behavior.  After all, adopting the extroverted introvert mask is a reaction at its core.  Ruminate on the following questions:
Why do I adopt this mask?
What insecurities and issues do I have that cause me to react?  Perhaps low self worth, lack of trust in my abilities, excessive anxiety, inability to cope with others, etc.
What can I do about my insecurities and issues?
If I feel the need to be liked – why?
Do I like and respect myself enough?
Where does my sense of worth and self esteem come from?  Others, or myself?
When do I put the mask on?  Why?
How can I cope with this situation differently?
Why do other peoples opinions of me matter anyway?
What's the worst that could happen if I drop my mask?
How can I excel without adopting a mask?
As they say, old habits die hard and adopting the extroverted introvert role can become a deeply ingrained habit.  I still struggle to remove the mask even now that I've become aware of its existence.  But continually being mindful and motivated to repeat the mantras of  "I want to be myself" and "I accept the way I am" has helped me progress.
Above all, the biggest lesson learned is to not create expectations in the first place. The lower the expectations you create for yourself and other people, the less you have to live up to.  All pressure and frustration disintegrates.  In the end, its essential to realize that you're not the only one of your kind.  There is nothing wrong with being the way you are.  With self acceptance comes the key to unimaginable social freedom.
Do you have any stories or advice about this topic?  Please let me know below!

Sponsored Links