Every man is a divinity in disguise, a god playing the fool.

― Ralph Waldo Emerson
Through the ages the Higher Self has been given many names: the inner self, soul, Christ-consciousness, Buddha-nature, Spirit and authentic self. Most of all, our Higher Selves have been thought of as the deepest, most divine essence within us.
Yet despite all of these words, many of us still struggle to understand the Higher Self and its role in our lives. In other words, how can we transform this topic from an intellectual concept into a feeling that we experience?
What is the Higher Self?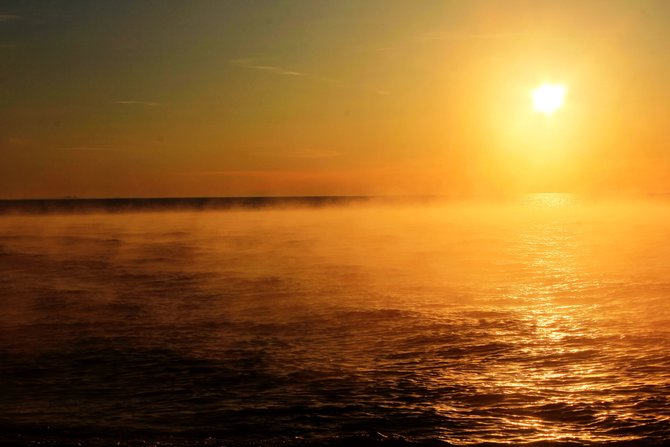 You are an aperture through which the universe is looking at and exploring itself. Through our eyes, the universe is perceiving itself. Through our ears, the universe is listening to its harmonies. We are the witnesses through which the universe becomes conscious of its glory, of its magnificence.

― Alan W. Watts (The Book)
I want to share with you a story:
Once there was a Great Ocean. All of existence was birthed from this Great Ocean, lived off this Great Ocean, and returned back to this Great Ocean. As it was in the beginning, millions upon millions of tiny rivers sprung from this Great Ocean. Each river snaked across the land like delicate veins. But one day a great drought came. No one saw it coming. The scorching sun dried up each snaking river so greatly that they all turned into lakes. No longer were they connected to the Great Ocean, so they felt great loneliness and isolation. As time went by, each little lake became more and more depressed, forgetting the Great Ocean.
One day, a shaman came to drink from one of the lakes. He noticed that it was depressed. "Why are you so sad?" he asked. The lake, despondent and gloomy responded, "Because I am nearly dried up and there is little water left. Time is running out. Soon I will be gone forever." The Shaman peered intently at the lake and laughed hysterically. "Silly lake, don't you know that you are connected to the Great Ocean? Although you change, you are changeless. Your water evaporates and returns back to the Great Ocean. It is then reborn, repurposed, and redistributed. How can you live or die? You are birthless and deathless. You are in all things. You are all things."
***
This story is the best way I can think to describe the Higher Self.
We are all like the lakes in this story. We believe that we are separate, isolated and cut off because of the ego. But something within us (the Shaman) continuously drives us closer to the truth through the voice of intuition, instinct and deep knowing. Eventually in life we have an illuminating moment of self-realization or remembrance: that we are rivers which are connected to the Great Ocean. The river represents the Higher Self. The Great Ocean represents Spirit, Source or Oneness.
Therefore, our Higher Selves are the embodiment of Spirit expressed through our human vessels. Our Higher Selves are our wise, all-knowing, unconditionally loving, creative, whole and liberated centers. Our Higher Selves represent our most authentic state of being beyond our conditionings, our fears, our limiting beliefs, our wounds, and our ego fixations. Our Higher Selves flow unhindered and effortlessly — but they can be blocked, repressed and denied. This is where the problems begin.
How to Experience Your Higher Self
I first encountered my Higher Self during an intensely traumatic shamanic experience. In this encounter, I lived through what felt like hell. All of my deepest fears were exposed and laid completely bare in front of me. For about an hour or more I experienced waves of the purest forms of anxiety, paranoia, terror, insanity, and loneliness imaginable. Despite constantly feeling on the verge of madness, I managed to surrender and accept what was happening. This shamanic experience awakened me to the existence of my Higher Self, or what I prefer to call "Divine Nature."
Thankfully traumatic experiences aren't the only way to reconnect with your Higher Self though! Other people encounter the Higher Self during activities such as meditation, fasting, wilderness retreats, dreams, visions, or even near death/out of body experiences. For everyone the situation or technique is different — there is definitely no one "prescribed" way to experience the Higher Self.
Below I'll share with you some simple ways to experience your Higher Self. But first, I want to share some benefits with you. In fact, I prefer to think of these "benefits" as "semi-permanent to permanent shifts of being" depending on how strong the encounter is:
Lowered or completely diminished anxiety

Lowered or completely diminished depression

Openness and receptivity to life

Creativity and inspiration

Enhancement of intuition and personal gifts

Greater tolerance and patience

No longer fearing death

Developing a mystical perception of life

Cultivating unconditional love for self and others
These "benefits" touch only the tip of the iceberg when it comes to experiencing your Higher Self! Because the experience is so individualized and personal, we all taste different benefits to varying degrees.
Here are some tips and questions that might help you tap into your Higher Self:
Discover the face of your Higher Self — what does it look like or resemble? You might like to use visualization, inner journeying, or self-hypnosis to help you with this.
What does your Higher Self feel like — e.g., what emotions, or physical sensations arise when you embody it?
What message/s does your Higher Self have for you? You might like to explore automatic writing, dream analysis and even the use of oracle cards.
Make time for silence and contemplation every day. Start with a minimum of 10 minutes daily. You can use this time to meditate, or to simply revel in nature and the wonders of existence. What feelings or thoughts do you have during this time? You might like to record them in a journal.
Explore what things you can surrender or let go of. Introspect and examine what beliefs, ideals, assumptions, and/or conditionings are causing you to feel separate.
In what ways can you accept and love yourself (and others) more? The more love you feel, the more life expands, and the more deeply you can embody your Higher Self.
Try non-resistance ("going with the flow") for one day. Allow everything to happen as it happens, including your thoughts, emotions and external circumstances. How do you feel?
Discover who or what your Spirit Guide is. Spirit Guides are powerful interdimensional beings that help us to connect with truth, courage, wisdom and love.
Find your soul place. We all have at least one soul place on earth. A soul place is a special site or spot where we experience unique feelings of belonging, empowerment and energetic rejuvenation.
Practice mirror work. When you stare gently into your eyes in a mirror, and call on the presence of your soul, what do you feel? What do you experience? The eyes, after all, are the mirrors of the soul. See if you can gently move past the voices of self-judgment that naturally arise when doing this activity, and tap into your inner Source.
Learning to connect to and embody your Higher Self can completely transform the way you perceive yourself, other people and life forever. For me, the experience was so profound that I've never looked at myself, or life, the same way ever since.

Have you ever "met" your Higher Self or embodied it? What was it like for you?